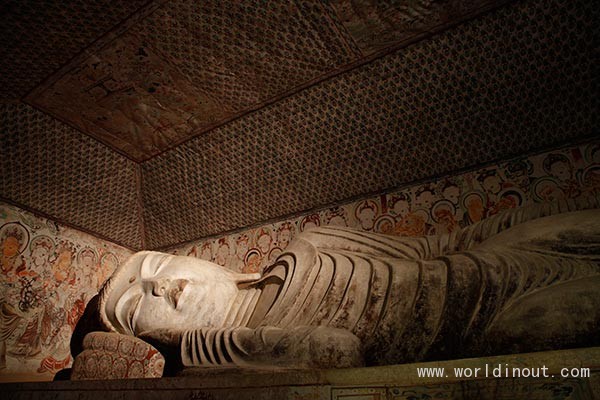 The Buddha statue is among 165 sets of original works and artifacts on shown at Dunhuang-Song ofLiving Beings.
Dunhuang is a small town surrounded by the Gobi desert in Northwest China's Gansu province. Itis a Mecca for Buddhist art for many.
From the 4th century to the 14th, artists and craftsmen made carvings inside mountain cavesthere and also created mural paintings, Buddha statues and other artworks. Today the caves areknown as Dunhuang Grottoes, spanning more than 1,680 meters, a UNESCO World Heritagesite.
An ongoing exhibition at the Himalayas Museum in Shanghai's Pudong area offers a glimpseinto the great art and history of Dunhuang.
Dunhuang-Song of Living Beings is the first large-scale show of Dunhuang art in the city. Theexhibits consist of 165 sets of original works and artifacts.
The museum refurbished its central exhibition hall to present eight replica caves that representthe highest artistic value of the Dunhuang Grottoes.
Also on show are 11 copies of painted stucco statues and 60 copies of murals, all made byartists and craftsmen from the Dunhuang Art Institute (the precursor of the Dunhuang ResearchAcademy), who have worked on the restoration and protection of Dunhuang for decades.
The exhibition is co-curated by Wang Xudong, director of Dunhuang Research Academy, andWong Shun-kit, advisor to the Himalayas Museum.
This is the first time the academy has joined hands with a private museum to present anexhibition, says Wang.
The exhibition also includes a number of contemporary artists' work from home and abroad,scattering them among the ancient paintings and sculptures.