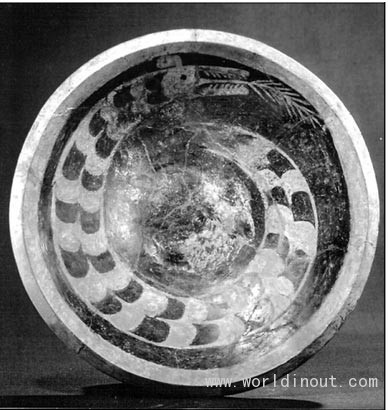 Significant relics unearth in Taosi include a painted pottery plate(above), which features the pattern of a dragon, and a pottery jar,which features a script of the Chinese character wen (literary).
"The handicraft industry we found among the relics also doesn't look like it was run by clans, butrather by powerful rulers."
Nevertheless, many experts associated with the project say more studies are necessary beforecoming to conclusions about Taosi. Old history textbooks say the first Chinese dynasty belongedto the Xias, who ruled from the 21st century BC, and could have descended from Yao'ssuccessors, but there is almost no archaeological proof to support the theory yet.
Song Xinchao, deputy director of the State Administration of Cultural Heritage, says it's too earlyfor archaeologists to celebrate.
Though similarities between character-like "scripts" of Taosi and oracle-bone scripts of latertimes have been found, the formation process remains unclear, Song says, calling for morecomprehensive and interdisciplinary research.
"The major city relics in North China should not be studied in isolation while looking for the largerpicture of the origin of Chinese civilization," says Zhao Hui, a history professor from PekingUniversity.
"As the most important participants forming that civilization, the whole region should be studiedto find connections among different sets of relics."
In imperial China, ruling dynasties preferred centralization of authority, based on an agrarianeconomy, according to He, the excavation-team leader. That is a probable reason why Chinesepeople tend to agree that their civilization was born in an area along the Yellow River, withagriculture as the dominant force.
Remains of ancient cities discovered along the Yangtze River, like Liangzhu in Zhejiang province,suggested these settlements were more focused on commerce.
But since commerce-based economy failed in ancient China, such relics couldn't be consideredsymbols of the origin of Chinese civilization, he says.
Related: