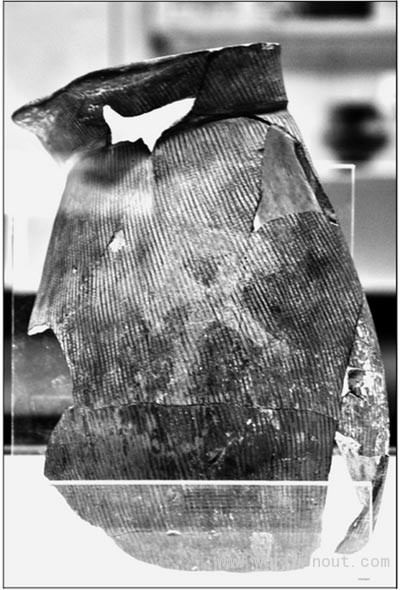 Significant relics unearth in Taosi include a painted pottery plate,which features the pattern of a dragon, and a pottery jar (above),which features a script of the Chinese character wen (literary).
Bai says a rigid chain of evidence is necessary to make an archaeological deduction. SomeChinese archaeologists say Taosi culture began from the 23rd century BC, coinciding with Yao'stime.
Historical records suggest Yao's regime may have been in today's Linfen. Cultural relics withinscriptions of his rule have been found among the relics.
The report focuses on the discovery of complexes with more than 1,000 tombs in Taosi, dug outbefore 1985. The tombs also hint at the existence of social stratification in ancient times, Baisays.
But the tombs have yet to offer "concrete" evidence that Taosi was indeed Yao's capital, headds.
The relics have helped archaeologists understand society at the time and have created a strongfoundation for excavations since 1999.
In 2003, an observatory believed to have been built around the 21st century BC was unearthed inLinfen as proof of a highly developed civilization, even preceding Stonehenge.
"It is estimated to be the world's earliest observatory with a mature calendar system," says HeNu, chief of Taosi's relic-excavation team. "But we still need further research on details."
Earlier, his team studied a solar calendar found at the site for a year. The calendar is likely theworld's earliest as well, he says.
More recent discoveries seem to support the hypothesis that Yao used Taosi as his capital. Forexample, the structure of que, a freestanding, ceremonial gate tower in traditional Chinese-palace construction, was unearthed earlier this year in Taosi. It resembles the entrance of theForbidden City in Beijing, He says.