Galvanized wire mesh is a general purpose metal net with a rust resisting zinc coating protection by electro galvanizing or hot dip galvanizing process. Galvanized meshes offer better corrosion resistance than plain steel mesh products. All galvanized meshes can be
double protected
with galvanizing and powder coating finishes.
GALVANIZED WIRE MESH, WOVEN AND WELDED
Galvanized meshes can be divided into following according to processing:
Galvanized mesh, woven
Galvanized wire mesh, twist woven
Galvanized wire mesh, knit woven
Galvanized mesh, welded
Galvanized mesh, chain linked woven
We also supply metal mesh products processed not from wire, but from steel sheets:
Expanded mesh, diamond or decorative hole
Perforated steel mesh, round hole and others
Galvanized wire mesh cloth is divided into following types according to hole patterns:
Square wire mesh ( woven or welded);
Hexgonal mesh;
Diamond hole wire mesh;
Rectangular mesh ( woven or welded);
Decorative mesh.
Wire mesh is divided into following types according to Wire Forms:
Crimped screen ( woven of pre crimped wire)
Flat wire knitted mesh ( made of flat wire)
Wire mesh ( made of common round wire )
Wedge wire ( of v profile wire)
Galvanized steel wire mesh is the most universal meshs, finding extensive uses:
Industrial screen filter ( Mining screen, vibrating screen, quarry screen, sifting screen);
Security mesh ( Security grill, fencing and guarding uses);
Storage solutions ( Decking, rack shelves, partition cages and lockers, gridwall panels);
Poultry breeding ( Chicken mesh, rabbit wire, poultry netting);
Construction ( Concrete reinforcing steel mesh products, plaster mesh, stucco mesh and lathing );
Filtering ( Mist eliminator, demister );
Slope protection solutions ( Rockfall protection netting and drape system for railway and bridge constructions);
Fabricating ( Making of mesh basket, wire scourers, fishing traps, cages, fan guards, other industrial products);
Other fields.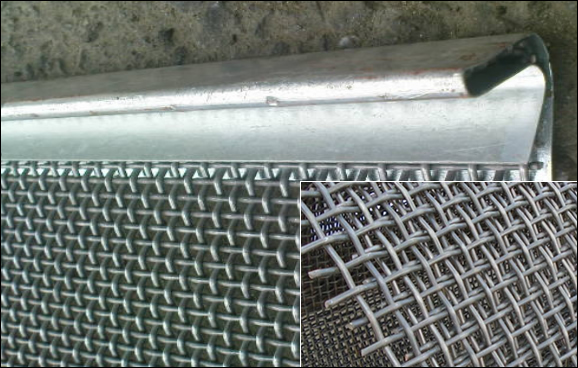 WIRE MESHES GALVANIZED, HOT DIP GALVANZIED, GALFAN GALV.
Galvanizing Types according to Finishes:
GI wire mesh, electro galv.;
Gi wire mesh, zinc plate hot dipped galvanised;
Galvanised mesh, powder coated galv;
Zinc+ Al / Galfan galvanized;
Anodised steel finish.
Galvanized Wire Mesh