Expanded metal Mesh Sheets and Rolls: GI Expanded metal, Epoxy Coated Steel Expanded, Stainless Steel Expanded Mesh in 304, 304L, 316 and 316L, Aluminum Screen, Nickel Net
We are a leading Expanded metal Mesh Manufacturer supplying expanded meshes of various sheet size, gauges and metal materials. Expanded metal is a versatile and economical metal mesh product made from solid sheet metals through slitting and stretching processes to metal mesh with a diamond openings joined by continuous, uniform strands.
Opening of Expanded Mesh Netting:
Standard opening of Expanded Mesh is diamond hole, diamond hole is called square hole by some customers. Heavy type expanded metal is stretched into a diamond opening samilar to hexagon hole with reduced short way of diamond opening (SWD) and increased long way of opening (LWD). Hexagonal hole expanded metal offers higher strength and loading capacity usually, it also offers an additional choice for architectural cladding sheets.
Comparing of Standard Diamond Mesh with Hexagonal Mesh: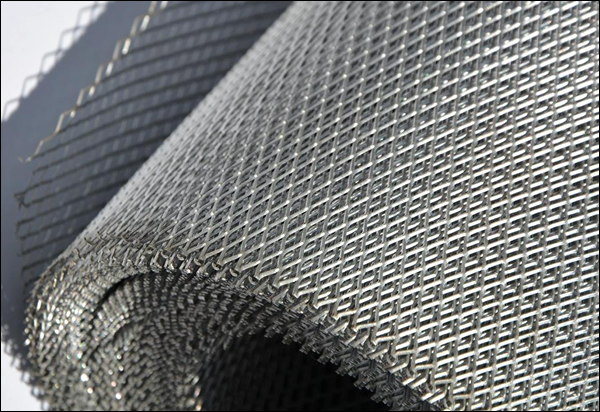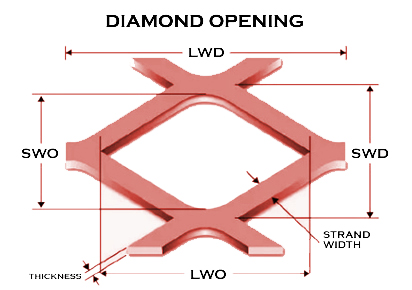 Expanded Meshes are supplied in following metals:
Expanded Mesh Sheets are popularly supplied in stainless STS 304L and STS 316L, carbon steel, galvanized and aluminum materials and these metal meshes offer savings in weight and metal material and a non-scrap surface.
Expanded metal Mesh is used in following fields:
Expanded steel and aluminum mesh is used for a number of applications, including floor grating, air grill and mosquito screen, security fencing, constructional lath structure reinforcing, architectural mesh.
General Technical Introduction
Material: Low carbon steel, galvanized plate, stainless steel plate, brass plate, aluminum plate, titanium plate, nickel plate, almg alloy plate.
Hole shape: Diamond, square or hexagonal.
Processing: Punched and stretched, sturdy and durable with elegant appearance.
metal Surface: PVC coated, epoxy powder coated, hot dipped galvanized, electro galvanized.

Popular metal Mesh Products
G I Expanded metal for Brick Reinforcement and Wall Plaster in Construction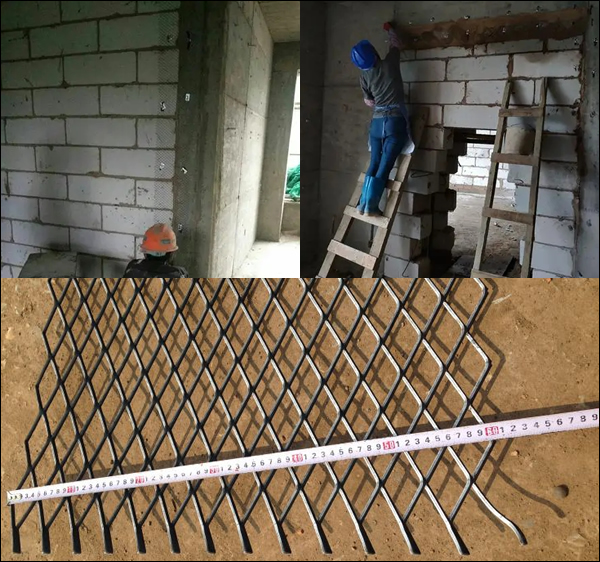 Material: Galvanised iron
Mesh rolls of 4"wide x 20 mtrs long
Mesh rolls of 6"wide x 20 mtrs long
Accessories:
1/2"(half inch) concrete nail
G.I. washer for fixing mesh
Expanded metal Mesh Grille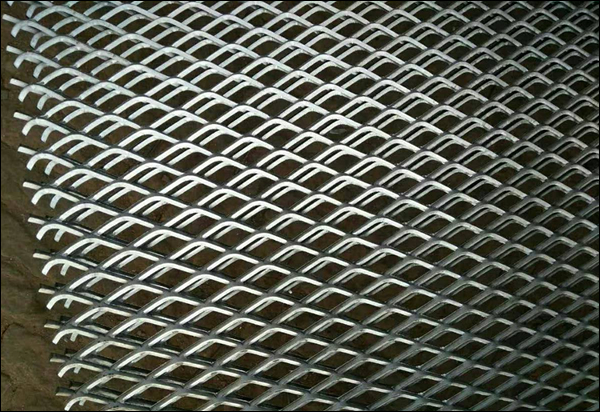 Top/bottom grill with wire, wire size : 120mm
Middle grill with wire, wire size: 140mm
Expanded metal, Steel Bleaching Plate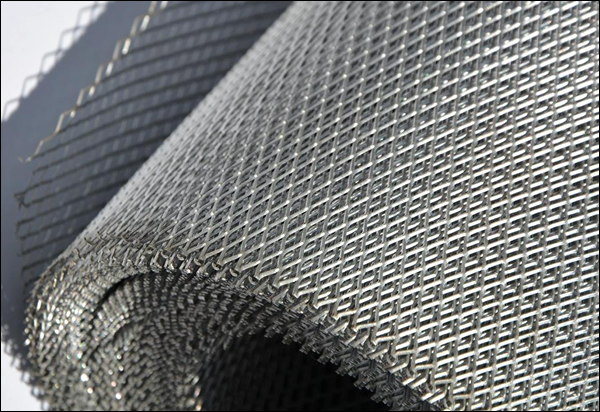 Expanded metal sheet, mild steel, 0.6mm, LWM 6mm, SWM 3.5mm
Sheet size: 1200x900, 1200x1200
Steel Bleaching Plate Expanded metal Sizes:
2.8mm thick sheet, 4' x 8' , Steel Grade: SS400
4.0mm thick sheet, 4' x 8' , Steel Grade: SS400
5.0mm thick sheet, 4' x 8' , Steel Grade: SS400
Aluminum Expanded metal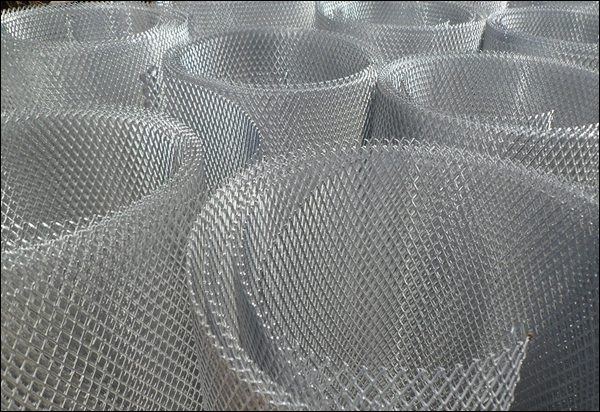 3mm thick 4x8 ft Aluminum Expanded metal, SWD 80mm, LWD 20mm
Aluminum expanded sheet is supplied in various diamond hole sizes and thickness.
Galvanized (GI) Flattened Expanded metal Plate
GI mesh sheet, thickness: 0.6mm
Diamond mesh plate: 2438mm (L) x 863mm (W)
LWM: 20mm
SWM: 10mm
Strand width:1mm
Galvanized Expanded metal Lath
Galvanized expanded mesh lath: 1.1 kg/m2 to 1.61 kg/m2
The expanded metal lath can be used to replace Galvanized Hexagonal mesh in concrete reinforcing
Expanded metal Mesh, SS 316
metal mesh made of Stainless steel 316 or 316L.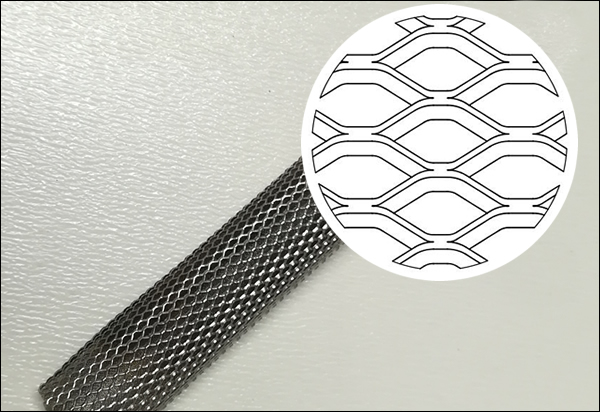 Expanded metal mesh, 10x150mm
Stainless Steel Expanded Mesh, Grade AISI 304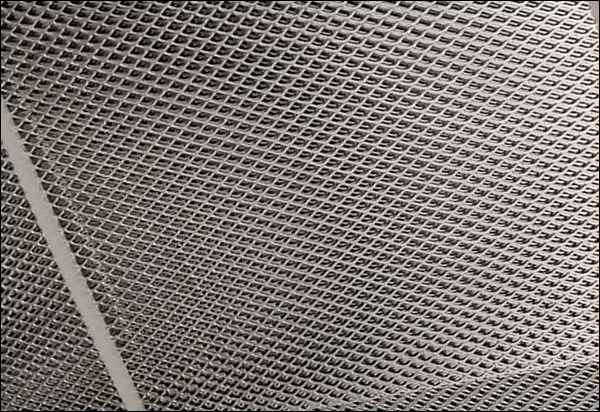 Expanded metal Mesh in Stainless Steel
Grade- 304
Thickness 3MM
LWDXSWD = 60x17mm
LWOXSWO = 50x10mm
Strand width = 4.8mm
Sheet size = 1220x2440mm
Expanded metal Mesh for Reinforcement, Made of Carbon Steel, for Reinforcement
Expanded steel mesh 80mm x 30mm x thickness 3.2mm
Mesh: Expanded metal mesh
Holes: Diamond open: 80x30 STD
Mesh sheet length: 8feet
Width :4feet
Sheet thickness: 3.2mm
Diamond openning size: Length:80mm,width:30mm maximium;style: standard
Material: standrad carbon steel
Standrad: JIS G3351 or equalent
Mesh Grill for Mosquito Racket, Galv. Steel and Aluminum
Light type expanded steel mesh grille
Mesh/Grill for Mosquito Racket
Material:
Expanded Iron metal Grill Size: 199.77*234.35*0.30mm
Expanded Aluminium Grill/Mesh Size: 195.77*230.35*0.30mm
Aluminium Expanded Screen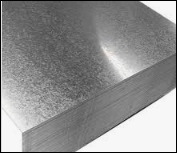 Aluminium screen panels:
Screens fabricated of continuous expanded aluminum sheet, 4.8kg per square meters
Percent of open area of screen: 15% max.
Expanded metal Net Mesh, Square Hole
Square expanded mesh
Square expanded mesh wiht custom color finish
Finish: Epoxy powder coating in matte finish - Red RAL 3028
10x8mm, 1mm thick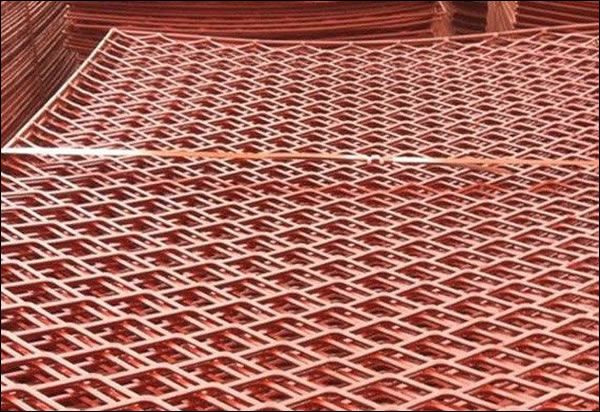 Sizes:
1230mm x 416mm c/w cut out 245mm x 344mm
276mm x 416mm
Mesh: 10mm x 8mm -1mm thick
Expanded metal Mesh in Nickel
Dimension
LW : 2.2mm
SW : 1.3mm
STW : 0.18mm
Sheet thickness : 0.2mm and 0.3mm
Sheet width : 33mm to 145mm
Material: Pure Nickel
Galvanized Expanded metal Mesh, GI Type, for Air Filter Production
Thin gauge expanded mesh
Material: Pre Galvanized Iron
Properties:Minimized spangle, Skinpass, Chromated, Unoiled.
Flattened expanded metal sheet: Thickness: 0.19T Strand width: 0.56mm Mesh opening size: 20*32mm
Uses: Parts for HVAC Air Filter production.
Galvanised steel material 0.3mm thick flattened and levelled in various sizes.
GALVANIZED EXPANDED metaL MESH
Material
Type
Thickness
Roll Size (mm)
Width
-10/+0 mm
LM
Pre-GI
Flat
0.3
280
548M
Pre-GI
Flat
0.3
340
548M
Pre-GI
Flat
0.3
360
548M
Pre-GI
Flat
0.3
380
548M
Pre-GI
Flat
0.3
430
548M
Pre-GI
Flat
0.3
440
548M
Pre-GI
Flat
0.3
480
548M
Pre-GI
Flat
0.3
580
548M
Pre-GI
Flat
0.3
609
548M
Pre-GI
Flat
0.3
680
548M
Pre-GI
Flat
0.3
740
548M
We also supply expanded metal mesh machines and metal plate materials for processing:
Expanded metal Mesh Machine
Steel Punching and Shearing Machine
Automatic Lubrication
CNC Stepping Motor Feed
Width: 2000mm and 2500mm Width
Thickness Range: 0.5-6.0mm
Speed: 55 strikes/minute
Max Long Way of Diamond (LWD): 200mm
Short Way of Diamond (SWD) Range:
Motor: 3PH 60 Hz 230/460 VAC
Galvanized metal Plate
0.4mm (thickness), regular spangle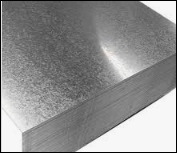 Thickness: 0.4mm
Surface Finish: Regular Spangle
Dimension Plate: 2438mm (L) x 1219mm (W)
metal plates of various sizes and materials are supplied for making of expanded mesh rolls and sheets.
Expanded Metal Mesh