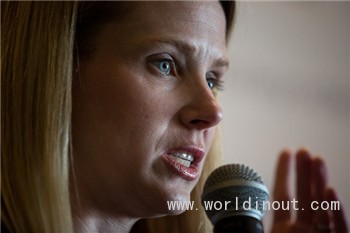 Yahoo said Wednesday that it had dropped a plan to spin off its $31 billion stake in Alibaba, the Chinese e-commerce company. Instead, the company will spin off all its other assets, including its stake in Yahoo Japan, into a new company.
The new structure essentially maintains Yahoo's strategy of separating its valuable Alibaba investment from the rest of the company, which will be focused on Yahoo's Internet properties.
The new Yahoo will be two companies: One will have a 15 percent stake in Alibaba, and the other will have everything else, including search, email, the Tumblr social media service and various sites like Yahoo Finance.
Maynard Webb, Yahoo's chairman, said the board believed that Marissa Mayer, Yahoo's chief executive, could continue to improve the core business, and the company was not for sale.
"If someone came in today and made offers on what the core or operating business is worth today, it would probably be a lowball offer," he said in an interview.
However, the change in approach does come at a high cost: It will add at least a year and a host of complexities to what was already a difficult process.
The decision not to sell the Alibaba stake, which was reported Tuesday, was driven by "the market's perception of tax risk" associated with the Alibaba plan, Yahoo said in a statement Wednesday morning.
Webb said during a conference call with analysts that the board still believed that original spinoff plan would have incurred no taxes to investors or Yahoo. But some investors, notably the Starboard Value hedge fund, disagreed.
"The tax attorneys were telling them one thing and the market was telling them something else," said Ben Schachter, an analyst with Macquarie Securities. "They decided to succumb to the shareholder pressure."
The new plan carries its own risks. Besides the additional delay, many of Yahoo's contracts, including its agreements with bondholders and Yahoo Japan, will have to be renegotiated before the deal can proceed.
Under the revised plan, Yahoo shareholders would still end up with stock in two companies.
"We are accomplishing the exact same thing in a reverse form," Yahoo's chief financial officer, Ken Goldman, said during the conference call with analysts.
Mark May, an Internet analyst with Citigroup, estimated the fair market value of Yahoo's stock under the new plan at $40 a share, compared with $32 if Yahoo had proceeded with the original strategy.
But with Yahoo stock trading at about $35 a share, he downgraded the stock Wednesday, noting that there was little upside for investors given the risks. That stark difference in Wall Street's view of the alternatives helped drive the board's decision.
Separately, Yahoo said that one of its directors, Max Levchin, had resigned to focus on his duties as chief executive of Affirm, an online lending company. The board has no plans to replace him and will shrink to eight members.
The change in Yahoo's strategy, which follows deliberations by the board over the last week, is the latest effort by Mayer to assuage shareholders. Mayer, who was hired in 2012 to turn around Yahoo, had planned to spin off the company's 15 percent stake in Alibaba, bundled with a small-business services unit, into a new company called Aabaco. She then planned to focus on improving the company's core business, the sale of advertising that is shown to the roughly 1 billion users of Yahoo's apps and websites.
Mayer is now effectively back to square one. Yahoo's core Internet operations are struggling, even though Mayer has made dozens of acquisitions, added original video and magazine-style content, and released new apps. The shares in Alibaba remain Yahoo's most lucrative asset, with the company's $8.5 billion stake in Yahoo Japan a distant second. The rest of Yahoo is worth $3 billion to $8 billion, according to analysts' estimates.
Mayer said in an interview that she was "deeply committed" to Yahoo and planned to stay and run Yahoo's core businesses. "I am committed to seeing it through," she said.
Webb said the board was "solidly behind Marissa" and her strategy.