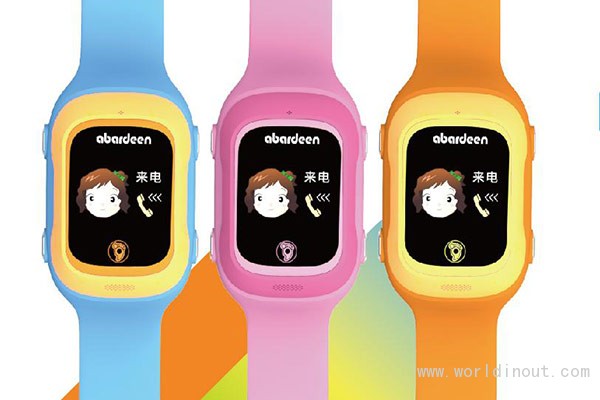 The Abardeen smart watch, which is targeted at children under 12, contributed 53.94 percent of thecompany's annual revenue in 2014.
Smart watches designed for children are enjoying a spike in popularity in China.
Shenzhen Continental Wireless Co Ltd, known for its Abardeen smart watch brand, submitted anapplication last Saturday to be listed on the National Equities Exchange and Quotations, betterknown as the New Third Board, to fund further development of its devices.
Created in 2008 as a laptop and tablet manufacturer, Continental Wireless shifted its focus towearables in 2013.
The Abardeen, which is targeted at children under 12, was introduced a year later andcontributed 53.94 percent of its annual revenue in 2014.
The watch's most-popular function, as with others, is its ability to track a child's location, whichhas proved popular with parents if not its users.
During the first seven months of this year, all of the company's 99.96 million yuan ($15.62 million)turnover came from wearables, it said.
Interestingly, the company's gross profit margins reached 50.24 percent, compared with below40.8 percent for the market's best-known product, the Apple Watch.
According to Shenzhen-based information technology market consultancy Sirida Media,Continental Wireless ranked second in smart watches for children during the third quarter, withnearly 170,000 in monthly sales.
The Chinese market's best-seller for younger users was the Xiaotiancai brand, with nearly220,000 sold during the same period.
One million Apple Watches had been sold in China by the beginning of September sincelaunching in late April.
According to China Mobile Communications Corporation, the telecommunications giant, thereare now nearly 50 brands of smart watch being sold with tracker devices suitable for child use.
The Global System for Mobile Communications Alliance pointed out in a latest survey thatwearable child-tracking devices have also helped fuel strong interest for the rest of the wearablesmarket.
Oliver Rust, managing director of market consultancy Nielsen China, said that more companiesare now tailoring their wearable devices to appeal to a wider range of consumers, including theelderly.
"Parents may not want to buy a smartphone for their 7-year-old; but they might be open to buyinga smart watch for themselves," he said.
"The potential of wearable technology is still in its infancy."